The Red Mangrove is certainly one of the most adaptive forests in the world. The network of trees grows in salt water and reminds us that success can germinate even in the most difficult terrain if we know how to adjust.
The combination of shrubs' roots provide an invaluable opportunity for coastal development by protecting it from wind, waves and erosion; while allowing the survival of resources that sustain local populations.
By analogy, R.M.D.A. is a team of professionals working to create and strengthen the conditions for sustainable economic and social development. We support actors in the North and South to :
Monitor, evaluate and measure progress and impacts in a logic of continuous improvement,
Strengthen the links between Migration and Developpement by enhancing the contribution of diasporas both in their home and origin countries,
Build fertile ecosystems for a diversified and resilient private sector.
To achieve this, R.M.D.A. establishes a close dialogue with stakeholders and works at the most appropriate territorial level to strengthen local skills.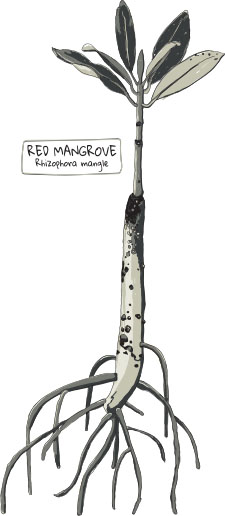 Most of our interventions are part of poverty reduction programs funded by major donors.
Due to the varied nature of our activities, we are mainly involved with three types of clients :
International development aid institutions, both multilateral and bilateral: French Development Agency, World Bank, International Finance Corporation, European Union, Inter-American Development Bank and other donors;
Local public bodies: governments, ministries, public and parapublic enterprises;
NGOs;
Private organizations: investment funds and private sector companies.