Monitoring and evaluation is too often perceived as a control and accountability practice, disconnected from the daily life of projects. However, a well-designed system that is properly appropriated by all serves as a compass for the project and allows for constant adjustments to improve its direction.
Our teams are able to design and support the deployment of monitoring and evaluation systems that are adapted to the realities of each project, right from the start. Thanks to collaborative and learning approaches, we also ensure the appropriation of the system and the emergence of a shared vision around its indicators and objectives.
We have a range of tools that we adjust according to the needs and specificities of the program (theory of change, data collection tools, evaluation guidelines, etc.) and intervention methods specific to each stage of maturity of the projects (baseline/endline, ad hoc reviews, evaluations, capitalization, etc.).
We are convinced of the need to learn lessons from projects, whether positive or negative, and help measure and understand the impact of the projects carried out.
Our support scheme in terms of monitoring and evaluation :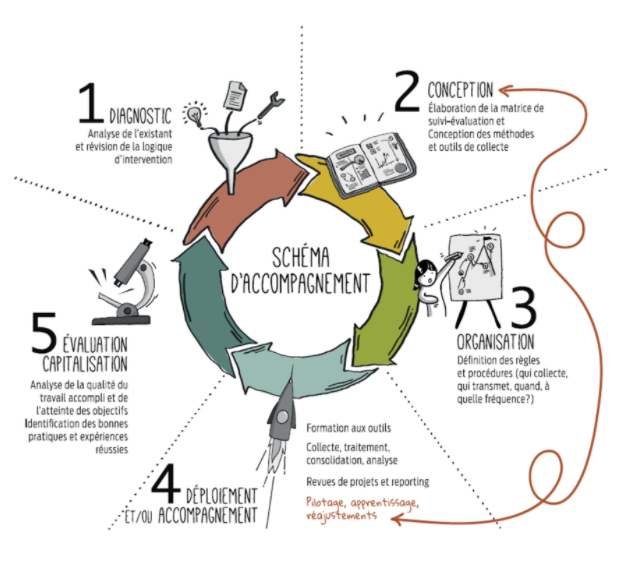 OUR VISION
Better monitoring and evaluation of the results of a program, and more broadly of its impacts, strengthens stakeholders' ability to make the right decisions, to continuously improve their actions and to capitalize on knowledge.
SUMMARY OF SERVICES :
Co-construction of efficient monitoring-evaluation systems, adapted to the information needs of programs/projects and taking into account the capacities and means of each stakeholder
Development of monitoring-evaluation plan (definition of data collection, processing and analysis processes)
Development of collection methods and tools combining quantitative and qualitative approaches

Information management and data visualization

Support for the deployment and management of monitoring and evaluation systems and for the analysis of results.

Support in the dissemination of a monitoring-evaluation culture and the full appropriation of the systems.

Carrying out mid-term or end-of-project reviews, project/program evaluations or impact studies.

Migration & Developpement

Innovative finance

Private sector support